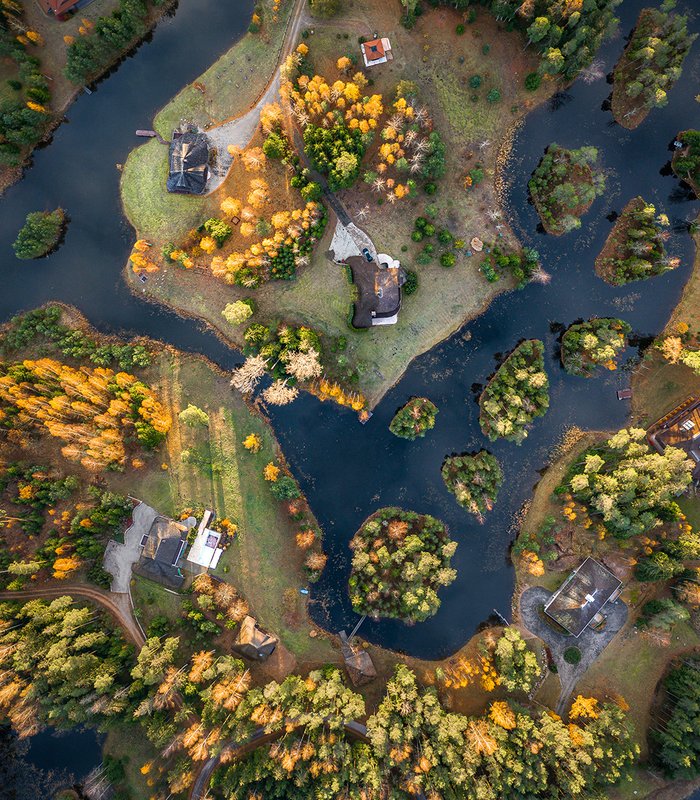 Idea
Amatciems - a village of detached houses of unified architectural quality in a picturesque location.
The unique landscape is made up of all the basic elements of nature: flowing landscape, clear water, fresh air, a warm fire in the fireplaces and glorious sunset rays, thousands of trees and ancient stones in the landscape.
All the elements of nature are also present in every house, protecting the peace and health of the residents and providing a balance with nature.
For the convenience of the residents, Amatciems has all modern communications: the required capacity of green electricity is generated by a solar panel park, drinking water is obtained from a deep well, sewage is discharged outside the village to municipal treatment plants, high-speed trunk optical networks and modern technologies guarantee uncompromising internet speed.
Environment
In Amatciems, the forest has not been turned into a city park, but there is a flowering meadow next to a well-kept lawn. A mown lawn usually has no fireflies, but in Amatciems, on warm summer nights, hundreds of little lights glow in the grass. A sonorous chorus of green frogs can be heard in the ponds. The balance between the environment, developed infrastructure and visual aesthetics creates the image of a premium class village, proving the harmony between man and nature.
The idea of creating a village is to realise the desire to live in a well-maintained, picturesque property, surrounded by forest and by the water. The internal rules of the village are intended for like-minded people who do not see them as restrictive, but as promoting peace and quiet. They are no fences, no loud noises are allowed in the evenings and at night, and it reminds us that a dog is a companion who stays indoors at night.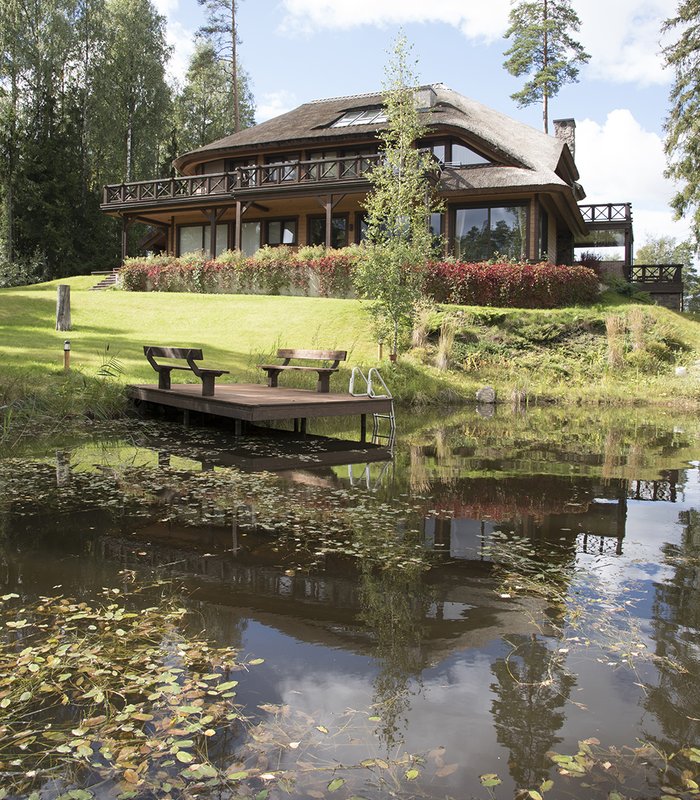 Houses
To achieve the harmonious integration of buildings into the environment, the location of the houses in each specific property is very carefully considered. We offer standard house projects that can be customised to the client's wishes, or you can choose your own individual project (in this case, the building project must be coordinated with the project developer).
The main criteria for the location of the building are relief, landscape and the cardinal points. Careful evaluation is carried out to ensure that the houses fit into the landscape, at the same time offering the residents of the house the best views of nature from the inside.
The house can be built using one of three types of construction - timber framed, log building or stone building, supplementing it with a boulder, decorative timber facing, painted plaster or glass exterior walls. Allowed roof coverings - reeds, torn wood chips, clay or cement tiles, as well as lawn coverings.